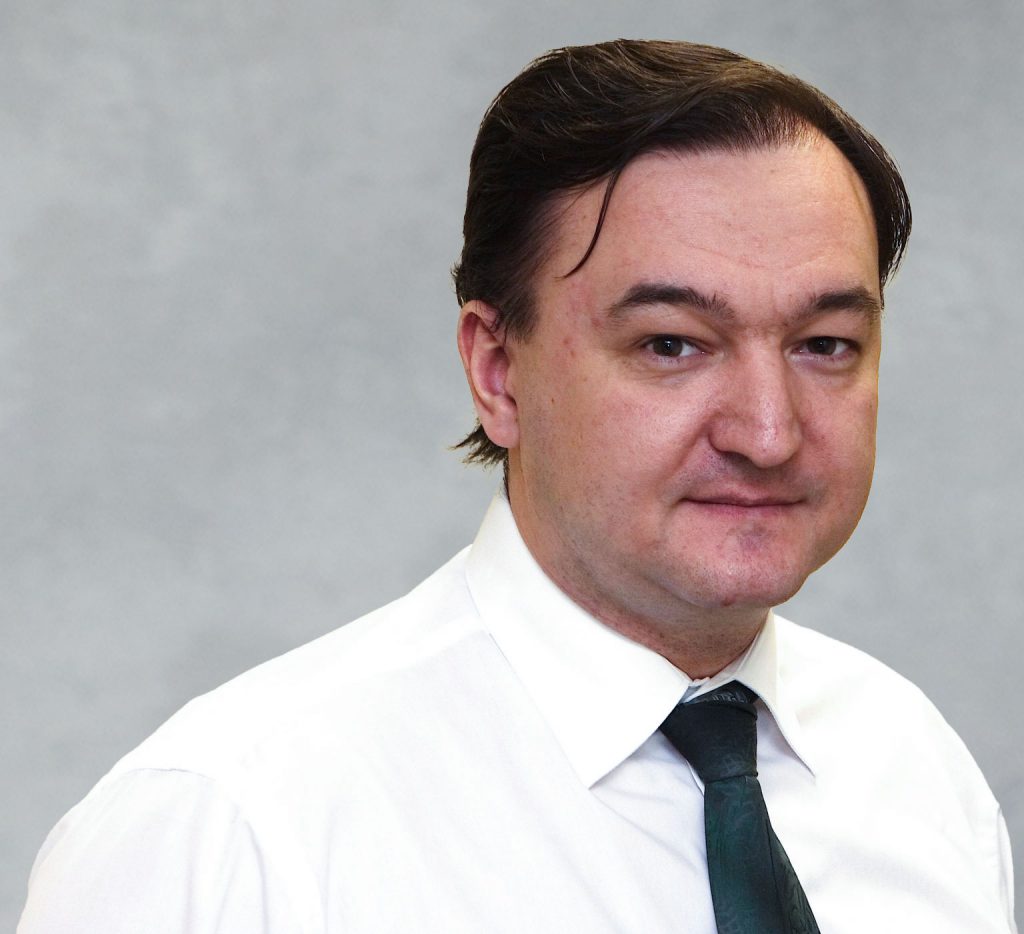 Sergei Magnitsky was a 37 year-old tax lawyer and auditor who worked for the Moscow legal and audit firm, Firestone Duncan. He was married and a father of two.
Sergei was born in Odessa, Ukraine in 1972, and emigrated with his family at the age of 9 to Southern Russia. As a child Sergei loved to read. On family vacations, while the rest of the family and friends would be splashing in the sea, Sergei would sit under a tree with a book. His studiousness was quickly recognized and at the age of 15, he won the Republican Physics and Mathematics Olympiad. When he was 18, he moved to Moscow and attended the prestigious Plekhanov Institute.

Sergei was brilliant, in a quiet way. He never made people feel small, but his professional expertise and knowledge was second to none. Sergei was quietly philosophical, and his observations and viewpoints were penetrating, interesting and challenging. Sergei had a unique way of looking at things, and conversations with him were inevitably eye-opening and memorable.

He trained a generation of tax consultants and auditors, and to this day they consider him their greatest mentor and look up to him as a professional and personal role model.

Sergei believed in the law.

He knew right from wrong and he was willing to stand up for the things he believed in. When Sergei discovered that senior Interior Ministry officers had stolen the investment companies of his client, the Hermitage Fund, and then went on to rob the Russian treasury of 5.4 billion rubles ($230 million), the proper course of action was obvious to him. Sergei immediately decided to testify against those corrupt officials.

There are those who ask why Sergei put himself at risk by defending Hermitage and testifying against dangerous people. He did it because it was the right thing to do, because he believed in the rule of law in Russia and because he was disgusted with public officials who would abuse the powers of their office to harm the people they should be serving.

Sergei gave his testimony against the Interior Ministry officials, and just over a month later those same officers arrested him and threw him in detention. There, they subjected Sergei to torturous and ultimately deadly conditions in an attempt to get Sergei to withdraw his testimony and instead incriminate himself and his client, Hermitage.

Throughout his detention, these Interior Ministry officers made it clear to Sergei that things would be easier for him if he would stop calling attention to the theft of $230 million from the Russian treasury. Sergei's position was simple: these officers are the true criminals, they should be sitting where he was and he was not going to help them hide their crime. If necessary, he would spend his life in pre-trial detention trying to expose what they had done.

On November 16, 2009, after a year enduring inhuman conditions in detention, after his health had completely broken down, after he had spent months in pain and after being denied life-saving medical treatment, Sergei died. On his final days, he experienced such terrible pain that he was put in a so called "medical" isolation ward over the weekend, but with no doctors or equipment. On the morning of Monday November 16th he was so ill and in such excruciating pain that a doctor decided to move him to a facility where he could receive emergency medical treatment. However investigators were reluctant to approve the move and they delayed his transfer until 5PM. He was ultimately transferred to another prison where treatment was again withheld. At about 8 pm, the officials, instead of providing medical assistance and saving his life, locked him in an isolation cell, handcuffed him and beat him with rubber batons. One hour and eighteen minutes later, he was dead. This entire time an emergency medical team was stationed outside the door, but they were not permitted to enter.

None of Sergei's friends, family or colleagues ever imagined that Sergei would die in pre-trial detention. Everyone was stunned by his death and by the impunity of the Interior Ministry officers.

Something else happened, however, something which probably surprised those who persecuted and ultimately killed Sergei. His death struck a chord that was heard around the world. People everywhere, both in Russia and abroad, were outraged.

The massive theft that Sergei Magnitsky reported was confirmed by Russian officials, but they refused to investigate the officers implicated in Sergei's testimony. On the contrary, in a further sad and absurd turn, the officers he testified against were put in control of the investigation of the theft.

Sergei was an extraordinary person. He was the kind of person Russia needs the most, and he was killed by the kind of people that Russia needs the least.
Media
Bill Browder on unweaving the global web of money laundering
CBS Sunday Morning
Bill Browder interview on Putin, crime & Russian corruption | Unfiltered with James O'Brien #7
JOE
How I figured out the Achilles heel of Vladimir Putin | William Browder
TEDxBerlin
Why Russia Hacked Our Election
The Aspen Institute
Kremlin Critic Bill Browder Responds To Putin's Accusations
CNBC
Bill Browder: Putin's number one foreign enemy?
The New Statesman
BILL BROWDER - VLADIMIR PUTIN WANTS ME DEAD - PART 1/2
London Real